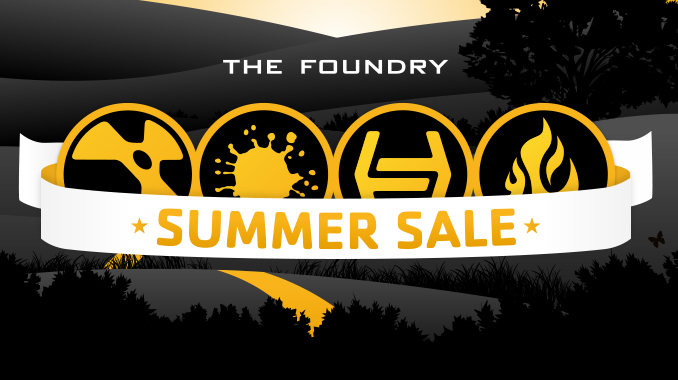 Work more efficiently, streamline your pipeline or upgrade your compositor with our 2012 Summer Software Sale.
With huge savings off list price on all this year's promotions this is a Summer Sale not to be missed!
Please note, this offer is not available online. TO BUY NOW contact DVT.
Offers end 31st August 2012, so don't delay get in touch today.
The Works
Work more efficiently with this complete software package giving you over 50% off when you buy NUKEX, MARI, FURNACE and 2 renders (1 x NUKE, 1 x FURNACE) before 31st August 2012.
The ultimate software collection, The Works comes jam-packed with tools to give you greater freedom. Not only giving massive discounts off MARI, FURNACE and renders, The Works includes our most comprehensive compositing product NUKEX. Giving an extended tool set that allows you to work efficiently, interactively and in the context of the visual effects process.
"Our artists really enjoy using The Foundry's tools because of their first rate support and their collaborative open approach to product development." Scott Holmgren, Chief Technology Officer at Molinaire.
The Perfect Partnership
Streamline your pipeline with our NUKEX and HIERO summer bundle, giving you a saving of 30% when you buy NUKEX and HIERO together before 31st August 2012.
The ultimate in collaborative workflow, NUKEX and HIERO offer a new way of working that's fast and flexible and guarantees improvements in project efficiency.
"With both NUKE and HIERO in our pipeline we have a more accessible, collaborative approach, which is faster and more cost effective, and best of all lets us take on even more projects. For us NUKE and HIERO offer a new way of working that we see as the foundation of our pipeline for the future." Heino Henning, Creative Director at Searle Street Post.
The Summer Step Up
Step up to NUKE with this year's summer upgrade offer. Send us your After Effects, Shake or Fusion serial code and we'll give you a node-locked NUKE with over 30% off before 31st August 2012.
Take your VFX work to the next level with NUKE, our award winning, industry standard node-based compositor. Don't compromise on speed, power or creativity upgrade your current compositor today and save over 30% off list price.
"I switched to NUKE because I needed more. I needed a 32 bit linear environment that worked and a 2.5/3D system that's responsive, fast, and easy to use. With python scripting and control over all my color and matte channels I'm free to think and composite like an artist, a cinematographer or a visual storyteller." Stephan Fleet, VFX Creative Director at Encore.