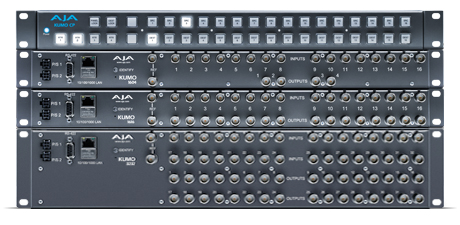 Now taking orders on KUMO 3232 SDI Router.
DVT is now taking orders on the new KUMO 3232 router. The KUMO 3232 continues the KUMO family tradition of high-quality routing with higher input and output capacity. Use the KUMO Control Panel to control up to four KUMO routers from any location on the same network.
New KiStor USB3 modules available.
The latest KiStor modules with USB3 connectivity are now shipping from AJA. The new KiStor USB3 modules are available in 250GB, 500GB and 750GB spinning disk models and are compatible with both Ki Pro and Ki Pro Rack.
Note: AJA recommends connecting USB Storage Modules directly to the host computer. Peripheral USB ports, such as those found on a keyboard, may not provide sufficient power for the Storage Module.