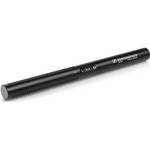 September 2012 – At the IBC Show in Amsterdam, audio specialist Sennheiser is presenting the new MKE 600, a condenser shotgun microphone. This new microphone, which is manufactured in Germany, will be an ideal choice for video journalists and ambitious videographers. Highlights of the new microphones performance include superior sound quality in difficult environments and a well defined pick-up pattern with excellent rejection of sounds from the side and rear of the microphone.
The MKE 600 is a camcorder microphone that can master even the toughest video sound challenges. Its high level of directivity ensures that it picks up sound from the camera direction while reliably attenuating unwanted sound coming from the sides and rear.
Wind noise is reduced by the included foam windshield, while a switchable low-cut filter additionally minimises wind and handling noise. An optional blimp (foam windshield/hairy cover combination) reduces wind noise even more effectively, making the MKE 600 the perfect choice for outdoor recordings. The MKE 600 can be phantom powered or operated on an AA battery for about 150 hours.
Main Features and Benefits of the MKE 600 include:
Designed and built by Sennheiser at their factory in Germany
Exceptional directivity Picks up the sound you want
Maximal rejection of side noise Ideal in noisy environments
Switchable low-cut filter Minimises wind and handling noise
Phantom or battery powering Flexible use on any camera
Battery switch with "Low Batt" indicator Saves battery time, no nasty surprises
All-metal housing Rugged microphone
Very good suppression of handling noise No surprises on the recording
Supplied with foam windshield and shock mount Ready to start work
Supplied accessories include:
MZS 600 shock mount for camera light-shoe
MZW 600 foam windshield
Instruction manual
Carrying Pouch
Optional accessories include:
MZH 600 Windshield to slide over the microphone for best wind noise reduction
MZQ 600 Microphone clamp, for microphone stands
KA 600 Spiral connection. cable, female XLR-3 connector to 3.5mm jack
Availability:
The MKE 600 will be available for delivery in October, 2012